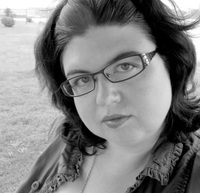 Kathleen Peacock spent her teen years crushing on authors and writing short stories about vampires. She put her writing dreams on hold while attending college, but tripped over them when office life started leaving her with an allergy to cubicles.
Fun Facts
Edit
She is obsessed with Chuck Taylors.
She makes Bella Swan look graceful and coordinated.
She has a diploma in graphic design and have had illustrations published in Applied Arts, the premiere magazine for Canadian design and visual communications.
She used to think moleskin notebooks were made out of actual mole skin.
Never engage her in a debate about Star Wars unless you have plenty of time on your hands.
She likes sentence fragments. And watermelon.
Her favorite mood boosting songs: "I Don't Feel Like Dancing" by Scissor Sisters, "Via con me" by Paolo Conte, "When You Were Young" by The Killers.
She believes the Goonies really 'r' good enough.